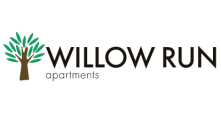 Your Review
Submit a Review

Resident Reviews
Amazing Home in an Apartment
|

Recommended: Yes
Great place to live|Recommended: YesMy husband and I are very very pleased with everything. Over 5 years now...
Great place to live |Recommended: YesI have had various issues throughout my first year regarding maintenance and administration and have not been disappointed. Timely responses and efforts to resolve issues very good
Very Nice |Recommended: Yesit feels more like a home than an apartment
Good Property|Recommended: YesNice and quiet
Friendly and Vigilant |Recommended: YesWillow Run is a friendly community. We look out for each other and keep our neighbors informed of what we see or hear.
Good place to live|Recommended: YesStandard apartment complex with great staff.
Nice area and complex. Great people.|Recommended: YesVery Nice!
It's quiet, beautiful and well kept.|Recommended: YesIt's peaceful. Having two ways to enter/exit: Fitzwatertown Rd or Moreland Rd makes it easy for traveling. Help is always available if II need it. My neighbors are pleasant. Lawns and grounds are well kept.
Great apartment complex|Recommended: YesClean,great maintenance staff, welcoming community
Very nice community, well kept grounds, oversized speed bumps.|Recommended: YesVery nice place to live just take extreme caution while going over speed bumps . I have hit and dragged the bottom of my car going only about 1 to 2 miles per hour over them. Other than that the apartments are very nice to live in and are extremely convenient to a lot of shops and main roads. The only thing i would change are the speed bumps. They are like mountains.
It's beautiful here and quiet; great neighbors;superior maintenance men.|Recommended: YesI would say: you won't find a better place to live. The last apt I lived in was full of bugs. I have been here since April 1 and have not found one bug in my apt. I am very happy here..
Great environment, really like the apartment-feels cozy.|Recommended: YesNice area, nice people. Maintenance staff- OUTSTANDING!!!!
It is Quiet Clean and Representatives are friendly and helpful|Recommended: YesI have had a very good experience with the management thus far. They are very helpful and pleasant to deal with. The Grounds are beautiful and the apartment is spacious and functional.
Nice people, maintenance veery accomodating|Recommended: YesQuiet, clean, friendly people. Roomy and spacious!